NEWS! (March 17, 2006)
The Deryni Adventure Game Receives Nomination for an Origins Award – Roleplaying Game of the Year!!
The Deryni Adventure Game has been nominated for an Origins Award in the "Roleplaying Game of the Year" category.
This marks Grey Ghost's sixth nomination for an Origins Award. In fact, every book we've published since 1997 has been nominated – with the exception of the Fudge 10th Anniversary Edition book, which got beat out in the Roleplaying Game category by – yup, the Deryni Adventure Game!
Visit our Deryni Marketplace for links to retailers carrying the Deryni Adventure Game and accessories!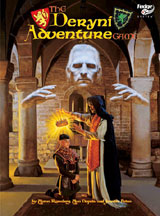 The Deryni Adventure Game and supplements are based on the popular "Deryni" series of fantasy books by New York Times best-selling author Katherine Kurtz.
The "Deryni" series began in 1970 with Deryni Rising. The novels weave a rich tapestry of romantic chivalry, medieval kings, a powerful Church, and a persecuted race of humans with the gift of magic - the Deryni.
A perennial favorite of fans of medieval fantasy, the Deryni setting offers roleplayers a rich world of magic and kings and high adventure.
The Deryni Adventure Game is a complete roleplaying game using the Fudge game system (easy for newcomers to learn, and adaptable to other roleplaying game systems). The core book presents the kingdom of Gwynedd and the world of the Deryni as a campaign setting for medieval fantasy adventures.
Also available: Deryni Dice for use with the Deryni Adventure Game. Eight "Fudge dice" (four black and four white) that double as ward cube props!
Gr

ey Ghost Press has created a large map of Gwynedd and surrounding kingdoms for fans and roleplayers. For more information, see The Eleven Kingdoms: a Poster Map of the Deryni World.



Also in the works: a Deryni Magic sourcebook and some adventure supplements!
For more information on the Deryni Series, see http://www.deryni.net, the official Katherine Kurtz homepage. Also see Rebecca Davis' Deryni FAQ.