Product Information

The Deryni Adventure Game
GGG6001, 256 pages, $39.99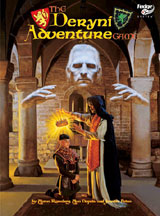 Welcome to the Eleven Kingdoms, known from days of old. It is a time of chivalry, treachery, sorcery, and power!
The Deryni Adventure Game is based on the popular "Deryni" series of fantasy books by Katherine Kurtz. The novels weave a rich tapestry of romantic chivalry, medieval kings, a powerful Church, and the Deryni, a persecuted race of humans with the gift of magic.
Now you can share in the magic! Create characters – human or Deryni! – and experience the Eleven Kingdoms through their marvelous adventures! Uncover intrigue in the courts of kings, defend the Deryni from persecution, explore the world, and experience all manner of medieval majesty!
The Deryni Adventure Game is a "roleplaying game." The book presents all the game rules, information, and advice you'll need to create your own interactive stories set in the Deryni world. All you'll need is some time, at least 2 players (including yourself), and your imagination! (Paper, pencils or pens, and dice will help as well.)
Download the Table of Contents for a peek at the book's contents!

The Eleven Kingdoms:
Poster Map of the Deryni World
GGG6004, 2' x 3', $18.00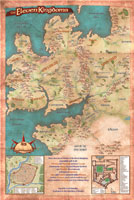 This large poster (24" x 36") comes rolled in a tube (no crease marks!).
The map is in full color, and covers the "Eleven Kingdoms" area of the Deryni world. Major cities, towns, religious establishments, and places of intereste are all marked, as are rivers and mountains and other geographical features.
Also included: an inset map of the city of Rhemuth (capital of the Kingdoms of Gwynedd), and a plan of St. George's cathedral and the Archbishop's Palace.

Deryni Dice
GGG9008DA, 8 dice in a "pop top" storage cube, $9.00
In the Deryni world, Deryni mages use objects called "ward cubes" in casting their magic. These objects come in sets of eight, four each of contrasting colors (most commonly black and white). During times of Deryni persecution, mages often disguise their ward cubes as dice.

"Deryni dice" are eight Fudge dice (four white, four black) arranged in a "Wards Major" configuration in a plastic pop-top storage box for use with the Deryni Adventure Game. Of course they can also be used as ward cube props!
Currently in Development:
Deryni Magic
GGG6003, release date and pricing to be announced
Katherine Kurtz's exploration of Deryni magic, first published as Deryni Magic A Grimoire in 1991, is being revised and expanded. Deryni Magic will present details on Deryni rituals, the hierarchy of the Church, magic-rich adventures for use with the Deryni Adventure Game, and more!